Pixels, Genetics and Mathematical Biology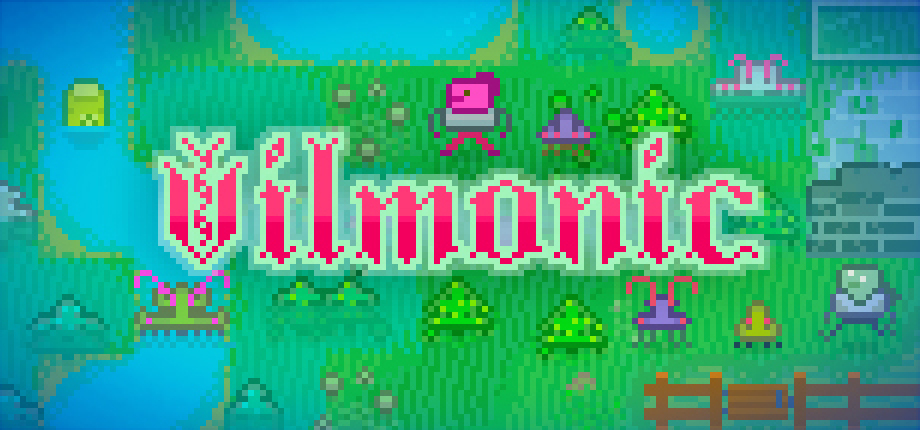 Vilmonic, a living world of pixels and genetics and mathematical biology is launching on Steam and Itch.io November 5, 2018!
Vilmonic is a truly living world of evolving life forms with emergent behavior. It was founded on the principles of the strong claim of artificial life that computational systems can actually be living systems.
And yet it is also a super cute, mellow and fun crafting sandbox game.
Your goal is to bring life back from the brink of extinction.
Protect and breed animatroids, generative pixel-art life forms whose pixels and color have meaning. Experiment with natural and artificial selection. Craft tools, construct buildings and change the environment. Uncover the secrets of the past as you dig up ancient tech and fend off the mindless haywire zombitons.
Vilmonic is a deep and complex artificial life sandbox.
Each creature's body is programmatically generated from its genes, which control the bending of hidden bones to create unique pixel art shapes. Each shape is important. Those pixels determine how many nutrients a creature needs each metabolic cycle. The ratio of outer to inner pixels determines how much hydration is evaporated or retained and whether that creature needs a wet or dry environment.
And there are the Braitenberg-style neural-net brains that evolve to produce emergent behavior from a very simple set of rules.
Genes shape morphology which defines physiology, all working together to determine each organism's fitness for survival.
There are other life forms too. The main food source are fungolites, which also have their own genetic code, and there are haywire evolving zombitons – steer clear of them!
It's about Science
Use observation and experimentation to learn the hidden rules of the world and its weird biology.

Sit back and watch as natural selection takes its course. Step in and steer evolution by manipulating the environment or by using artificial selection and breeding.

You must work from within the world to change the world, you have no godlike powers. Spread dangerous toxic waste to increase reproductive mutation rates. Drink sugary beverages to speed up time and get a better view of the process of evolution.

And Crafting
Discover the story and mysterious history of Vilmonic as you dig up eons of buried trash and ancient tech. There's a lot of it! It's not all junk though, most of it has a unique purpose and use.

Craft new tools, dig rivers and make islands, construct buildings and roads and farms to help you create and personalize your world.

And Cooperation
You are not totally alone. There are others like you, but they don't care about you or your important task. The uncaring zombitons are everywhere! They're violent, selfish, and love to build their own cities. Figure out how to live with them, or risk their wrath!
Vilmonic launches November 5 on Steam and Itch.io for Windows, macOS and Linux.
Press kit
http://vilmonic.com/press-kit/
Vilmonic on Steam
http://store.steampowered.com/app/458330/
Contact
Mark Stramaglia, Founder and Developer
m@bludgeonsoft.org
About Bludgeonsoft
Bludgeonsoft is a one-person studio founded by Mark Stramaglia and located in Oakland California. Bludgeonsoft's music software BackToBasics, WMCP, Abominaclavia, and others, have been written up in Wired Magazine, Computer Music Journal and Computer Music Magazine, and have won honorable mention at International Festival of Electroacoustic Music, Bourges, France. Vilmonic is Bludgeonsoft's first venture into commercial games.